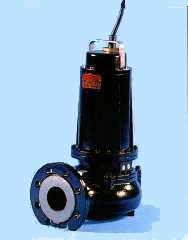 Applications and Characteristics
The 4 poles submersible pumps, from 0.75 to 15 kW, are used for safe and economic movement of water for industrial sites and urban sewage systems, for lifting of clean water, dirty water, civil or industrial waste water containing solid or fibrous bodies, raw and active muds.
The VT series features vortex impellers, while the AT series features high efficiency single channel impellers.
As for all our cast iron pumps:

silicon carbide mechanical seal
G15 cast iron pump body and impeller
stainless steel bolts
AISI 420 rod
oil immersed motor
thermal protection of the motor

Models above 2 kW feature:

double mechanical seal
leak sensor
10 m power supply cable
100% mechanical compatibility with quick connectors from all major manufacturers

Maximum temperatures of the liquid:
Continuous operation: 40 ºC.
Intermittent operation: 80 ºC (5 minutes max)
Min liquid height above pump body: 0.2 m.
pH range of the pumped liquid: 6-11.
Maximum immersion: 20 m.
Density of the liquid may not exceed 1100 Kg/m3.