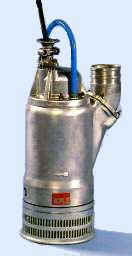 Applications and Characteristics
The KT series submersible pumps, designed for pumping polluted water containing mud, rock chips, sand, clay and other abrasive materials, are lightweight and suitable for use by building contractors.
Main characteristics:

aluminum alloy pump body
tungsten steel impeller
pumping chamber lined with nitrilic rubber
integrated capacitor for the Monophase versions
15 m power supply cable

Available for 50 Hz, 60 Hz, Threephase only.
Two or more pumps may be connected in series in order to reach the total head required. The series connection requires a modified suction cover and a flexible connecting hose with fast conectors.
Maximum temperature of the pumped liquid : 40ºC
pH range of the pumped liquid: 5-7.5
Maximum immersion: 10 m.
The density of the liquid can not exceed 1100 Kg/m3.